My turn. :)
I think it's about time that I express my feelings.


November 29, 2005

I was about to meet a fellow Shinhwa fan because of Andy's accident. Shinhwa Changjo forums came up with a project that would help wish Andy well - we had to make 10,000 cranes if i'm not mistaken. So they divided the number of cranes by country. Well, knowing myself, was worried for Andy's health so I decided to help. Good things there's a fellow Filipino fan who's willing to lead the Philippine project. That's how I met Angel. We communicated through PM at first. I told her I am going to make as many cranes as I can. We learned that we're practically neighbors – I was studying in Ateneo and she's studying in Miriam College. I found it amazing that 2 Shinhwa fans can be THISCLOSE. (Or so I thought, more on that later.) Anyway, we finally met at Seattle's Best Katipunan on November 29, 2005. She was wearing a green shirt. She looked so pale I thought she was Chinese. Later I learned she was half-Japanese.

Angel was like a breath of fresh air that came into my life. She was different. She swears like there's no tomorrow (Now, I do too. XD). She randomly comes to our Eliazo booth after her classes. She kept me company during the times when I was alone in our booth and sometimes waits for me to go home . She helped me in the Eric project – this was the time when school was hellish because graduation's near. She's crazy, I'm crazy. Fun, right? XD

Kung gaano ko siya kasundo, ganun din kami hindi magkaintindihan kung minsan. We've had misunderstandings. Ang gusto ko naman sa kanya, pareho kami ng ugali. Nararamdaman namin ang sama ng loob ng isa't isa. Kaya kung may samaan man ng loob, napag-uusapan agad. Minsan naiisip ko rin, hindi kaya nagsasawa ang taong 'to sa kakaintindi sa akin? Minsan kasi, dahil sa paranoia ko kaya kami nagkakasamaan ng loob.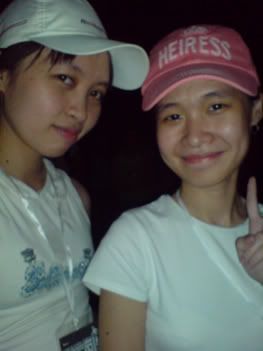 Angel, maraming salamat sa lahat ng nagawa mo para sa akin. Sa lahat ng 'pagkunsinti' sa mga kung ano-anong mundong pinapasok at papasukin pa natin. Para sa marami pang taon, birthdays, Pasko, bagong taon na magkakasama tayo :) ...I love you.

--

This day, it wasn't just Angel I met. I also met Rhanie – who became my classmate in one of my sophomore classes (Theology). I was so surprised to see her with Angel. When I was walking towards them during the first meet, I was thinking: Parang kilala ko ang babaeng 'to ah… And truly, I knew her. We won't ever forget our teacher because he's one heck of a green-minded priest. That was our common denominator.

Senior year started and we had a booth at Eliazo for our thesis. Rhanie was my nebulizer. When stress kills my system and I can't breathe, she comes to the rescue. Randomly, she will pop her head into the room and with her bright smile she says, " MEG!" No mattter how stressed I am or how bad my day was, seeing her makes me feel better. Minsan, sasamahan niya ako maglunch dun lang sa labas sa may sofa at magkukuwentuhan lang kami about Shinhwa at mga Koreano. Stress-buster kahit na konting oras lang.

Rhanie, hindi mo alam kung gaano ako nagpapasalamat hanggang ngayon sa lahat ng nagawa mo sa akin nung mga panahong nasa e-print ako. Maraming salamat. Love you. <3

--

I also met Gab on this day. Rhanie told me there's another one coming and that I may know her also. Then Gab walked towards us wearing shorts, I think? Hehe. Of course, I know Gab. She was also in my Theology class like Rhanie. I know most of the people from that class because I was the beadle – I help the teacher in checking attendance and stuff. Small world, huh? Just when I thought I was the only Shinhwa fan in Ateneo. Well. Think again. Now, we have 2. Later we'll have more.

Gab was the perfect bubbly girl for me. She's a happy happy girl. She can make anyone laugh with her 'astig' comments and 'hirit'. I think sa kanya ako natuto humirit. She's my commuting buddy. Whenever we see each other in school and we're both heading home, we ride the jeepney together. UP route. She introduced me to Arashi. That's a big deal since I love love them now. <3 Maraming insight ang batang 'to sa maraming bagay – sa buhay, sa bansa, sa kahit ano. Kaya masarap kausap.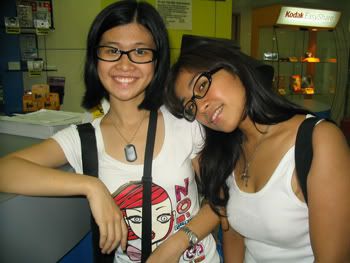 Gab, maraming salamat sa lahat. Sa pagmamahal, sa pag-intindi, sa pagbibigay ng ligaya. More years of reasured friendship. Love you. <3


--

January 25, 2006

This day, for the first time, without realizing it, OM was complete. This was also the first time I met Nerie. My younger sister. Because Eric is her KUYA. Angel was long telling me about her and I was already reading Crossroads then so I was so delighted to see her. "Unnie!" She called. I was surprised because it was the first time that someone called me by that name.

She was our princess. KPOP was our common denominator. She was a Nonstop fan too. We talked a lot about Korean actors and actresses. I guess, parehong taon kami nagsimula maging fan. We share the same love for Eric and Dongwan. He loves her Kuya and I love Dongwan's voice.

Nerie, thank you for treating me as your sister. I remember the birthday video you made last year, I guess that sealed our sisterhood then. I'm so happy we've gotten a lot closer now that time permits us to be together more often. :) Marami pang taon, Nerie. Masaya ko yung haharapin kasama ka. I love you. <3

--

Okay. I can't remember the date. But I remember it was Blue Roast 2006 when I first met Kate. We are going to have a photoshoot/mv shooting for How Do I Say MV at Angel's house. I lost my phone that morning while going to SM North (damn pickpockets). And I remember, when I met her, Rhanie told me that she's from Ateneo too. I was like, "Really? Bakit di tayo nagkikita?" HAHA. Then, I learned she's a member of Entablado. I was once a 'member' of Entablado. Nakitext pa ako sa kanya, buti na lang may number siya nung friend ko na kailangan kong itext. O di ba? Bonding agad.

Kate is our supermodel. I like the fact that most of the time, she's 'indifferent'. In a good way, I mean. Go with the flow lang ba. Halos sabay kaming nagkatrabaho, kaya we know the feeling of work stress at kung gaano kahirap kumita ng pera. Yung tipong halos sa isang iglap e ubos na naman. HAHA. We haven't bonded really really well pero in time, I know, mangyayari rin ang 'moment'.

Kate, thanks for the random moments together. More bonding time with you in the coming years! Love you. <333
--

It's been one year and a half. I can say we've been though a lot already. One circumstance threatened our friendship but it only made us stronger. Made us stick to each other more. Ika nga nila, kapag lalo mong binubuwag, mas lalong tumitindi ang kapit. During this time that I realized that no matter what happens, we will not leave one another. Walang iwanan. This is it. This is where I belong. I know we will go through so much more in the coming years, but I am not afraid. Because I know we have each other to hold on to.
No matter what.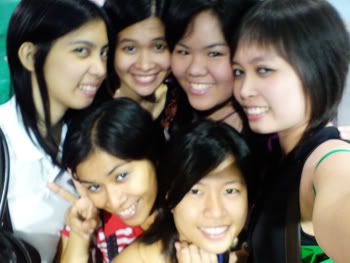 I love you guys.
Cheers to our friendship and love!
Forever,
Meg